Give One. Get One. Change a Child's Life
Last night I set the alarm for 5:50 AM and this morning I forced myself out of bed prior to 7 AM for the first time in recent memory. Why? Because today – at 6 AM Eastern Time – OLPC (One Laptop Per Child) started their Give One, Get One program.
The mission of One Laptop Per Child (OLPC) is to empower the children of developing countries to learn by providing one connected laptop to every school-age child. In order to accomplish our goal, we need people who believe in what we're doing and want to help make education for the world's children a priority, not a privilege. Between November 12 and November 26, OLPC is offering a Give One Get One program in the United States and Canada. During this time, you can donate the revolutionary XO laptop to a child in a developing nation, and also receive one for the child in your life in recognition of your contribution.
For $399 ($200 of which is tax-deductible) a laptop is sent to a child in a developing nation, and one is also sent to you. In addition, you also get one year of free T-Mobile HotSpot access (a $350 value).
For those of you who haven't heard about the laptop, it is absolutely revolutionary. It can be built for under $200 (soon to be under $100), and runs a plethora of custom open source software on a special Linux operating system. To accommodate the developing nations ,the laptop has long battery life (and can be re-charged using a hand crank on the device), a screen that can be viewed outdoors, and antennas to act as relays for wireless internet access!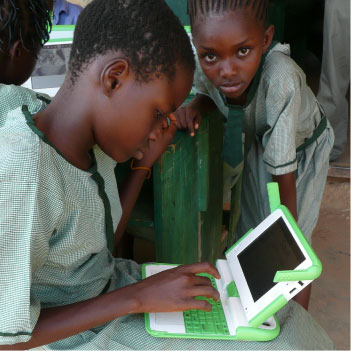 I became very intrigued by the mission of the program when I first heard about it, and once the Give One, Get One program was announced I was absolutely thrilled to have the opportunity to donate one of these amazing machines AND get one myself. My hope is to eventually have Pure Adapt develop web applications to work specifically with the laptops unique resolution and web browser to help make the knowledge of the web more accessible to these kids, but in the short term it's just going to be a fun toy. On top of that, I'm pumped to get the T-Mobile HotSpot access so I can finally get free wi-fi at Starbucks (Albany, like every other city in the country, has about 500 Starbucks and maybe 5 other coffee shops with wi-fi…it's nice to have 500 more places I can get out to do some work and grab a good drink).
Some people have been critical of the mission of the organization, namely their focus on developing countries over domestic kids in need. From their FAQ:
Why are these laptops going to children in developing nations when there are needy children in the U.S.?

In the U.S., the average expenditure for education is $7,500 dollars per child. In developing countries, the average expenditure is typically less than $300 dollars per child. One Laptop Per Child is initially focused on where the need is most urgent. A number of U.S. states have approached One Laptop Per Child and expressed interest in the program, and in the long run, One Laptop Per Child hopes to work with those states and help children everywhere.
I can certainly understand the opposing view, but I happen to agree 100% with that sentiment – I view the entire world as one family and our brothers and sisters in the most need are in developing countries.  If you happen to agree too, there's no better Holiday gift that you can give than the gift of education to a needy child.